KODIAKOOLER® is a market leader in natural fiber insulated packaging. The trend away from EPS foam to an environmentally and economically sustainable packaging solution continues to spread to more companies and markets.
KODIAKOTTON® is the insulated packaging solution that consumers have been asking for. It performs as well, or better than, foam, at a cost comparable to foam. But unlike foam, KODIAKOTTON® is reusable, recyclable, and biodegradable.
Your customers have been asking for it. Now you can sell it.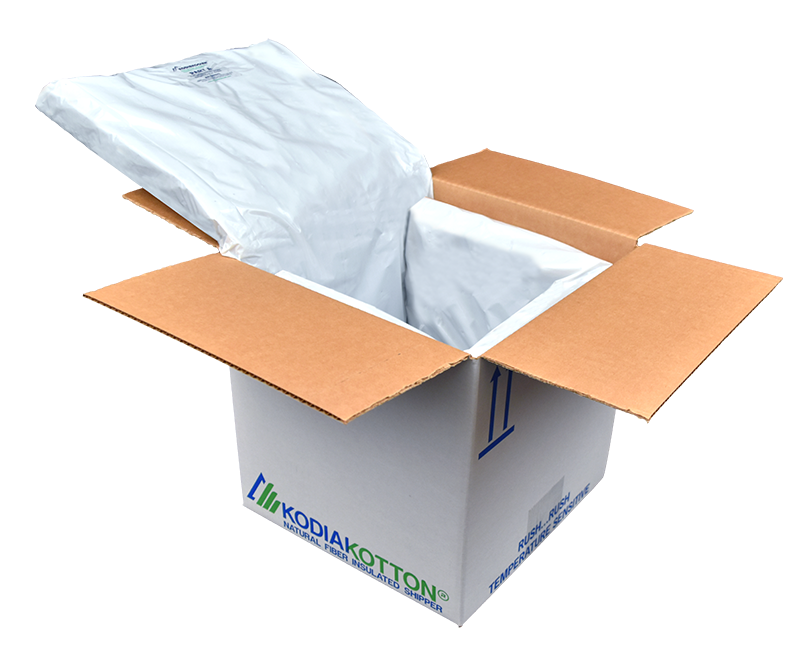 Our sales team serves to educate, train and answer any questions you might have as a distributor. Our associates make sure that you are provided with enough education and resources so that you are fully prepared to sell our products.
As a KODIAKOTTON® Distributor, you can have access to our confidential wholesale distributor pricing. Whether you stock or resell our products, you are guaranteed an advantageous price break.
Let our inventory serve as an extension of your own. By stocking KODIAKOTTON® you can have any product at your disposal. If you are unable to stock, we offer an unbeatable drop shipping program. Our warehouse is yours.
Our distributors have access to any marketing material to use as needed. These materials include (but are not limited to) product sheets, flyers, product testing, and recycling instructions. It is our goal to be a useful resource to our distributors!
BE A KODIAKOTTON® DISTRIBUTOR.
As the manufacturer of KODIAKOTTON®, the pricing we offer to our stocking distributors is the best – guaranteed. Our starter truckload program includes some of everything to satisfy a wide variety of customer needs.
We can also tailor the mix of sizes to match specific requirements. Outer cartons are available for all KODIAKOTTON® liners, along with a wide variety of other packaging supplies.
Don't have the space to stock our products? We offer an excellent drop shipping program with low minimums and advantageous price breaks.
Not able to stock products?
BE A KODIAKOTTON® RESELLER.
If you are interested in distributing or reselling our products, please fill out the form below.