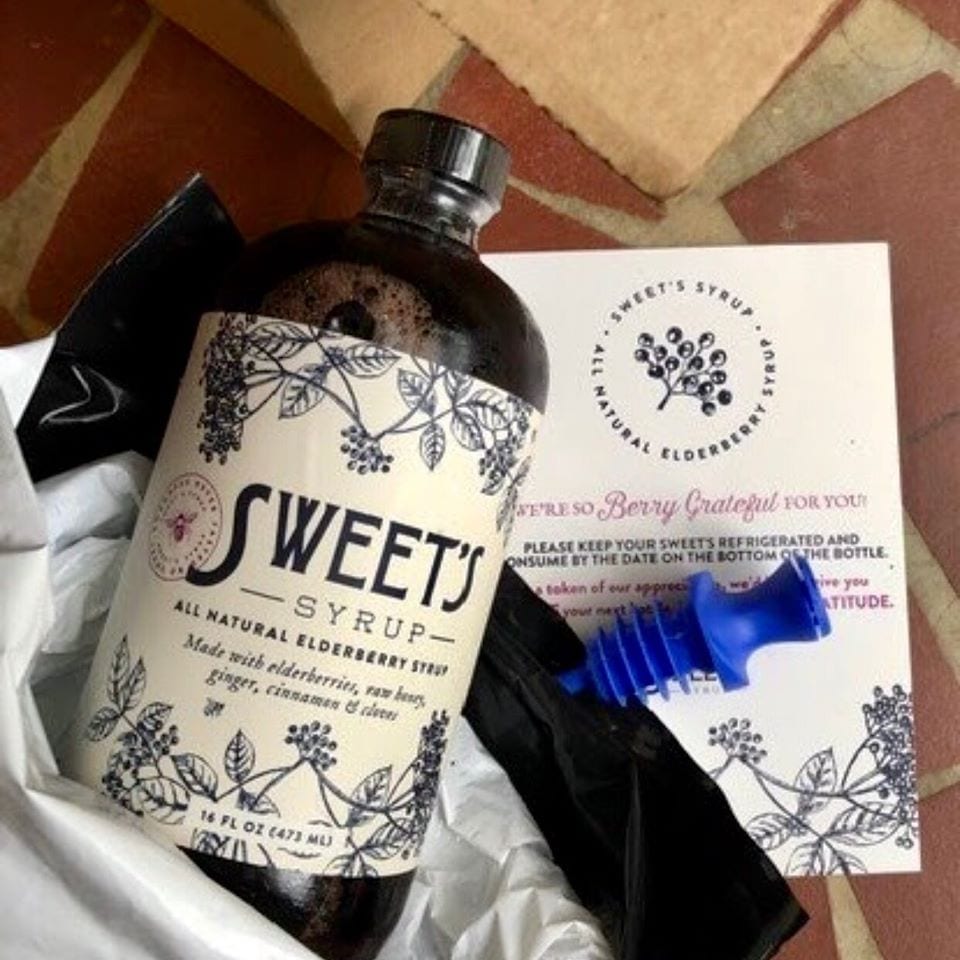 REUSE & RECYCLE SWEET'S PACKAGING
Sweet's Syrup is unpasteurized to preserve all the benefits of our seasonally harvested, raw, local honey. This means our syrup is kept in your favorite retailer's fridge, and Sweet's purchased online ships to you in an insulated pouch with a reusable cooling pack. We are committed to product safety and environmental stewardship, so we partner with KODIAKOOLER, just down the highway in Statesville, NC.  They provide us with KODIAKOTTON®, an environmentally responsible alternative to foam coolers and plastic bubble wrap.  Made of natural cotton fiber – primarily recycled blue jeans – KODIAKOTTON® is non-toxic, hypoallergenic, reusable, recyclable, compostable, and biodegradable. It protects your Sweet's bottle during transit, absorbs condensation, and helps maintain proper food-safe temperature in hot or cold weather. 
When you open a shipment of Sweet's organic elderberry syrup, you'll find: 
A cardboard box – available for reuse, or to be flattened and recycled;

Your Sweet's Syrup – in a recyclable/reusable glass bottle;

A bit of bubble wrap – ready to cushion a package or wrap glassware;

A cooling pack – perfect as a bruise soother or in a lunchbox; and

A plastic-backed 

KODIAKOTTON® liner – with a LOT of options!
The first step is to peel the plastic backing from the liner.  Plastic backing sheets can be recycled with #4 plastic bags.  And now, the fun begins!  Here are just a few ways to repurpose your cotton liners:
Compost – It'll decompose just like a plant, because it's cotton!
Purse/Shoe Shaper – Stuff into shelved purses or boots to hold their shape.
Grocery Insulator – Line your reusable grocery tote to keep items cold.
Garden Weed Barrier – Water and fertilizer can drain through the nontoxic, biodegradable pad, but weeds are out of luck!
Pet Bedding – Liners are very soft and hypoallergenic.  Cut to fit your dog's crate and leave as-is, or cover with your own fabric!
Alternatively, bring your KODIAKOTTON® liners to any location of H&M or The North Face for recycling and you'll receive a thank-you perk!  H&M will give you 15% off any purchase, while The North Face will take $10 off any order over $100.  Liners can also be dropped in ReThreads bins at Columbia Sportswear locations nationwide.
We'd love to see how you re-purposed your Sweet's liners on Instagram or Facebook!  Be sure to tag @sweetssyrup so we can thank you for caring for our environment.
Original post from: https://www.sweetssyrup.com/blogs/news/reuse-recycle-sweets-packaging